Yayoi Kusama: Infinity Mirrors — Dot, Net, Soul, and Love
Yayoi Kusama: infinity mirrors is an exhibition examining the contemporary Japanese artist's significant 65-year career and contextualizes the notion of infinite expansion and accumulation in her work, culminating in her visually stunning Infinity Mirror Rooms. I visited Seattle Art Museum for the exhibition on Saturday, July 15th, 2017.
Guided by her unique vision, critically acclaimed artist Yayoi Kusama has been breaking new ground for more than six decades. In 1993, she became the first woman to represent Japan at the Venice Biennale.
Born in 1929, Kusama grew up near her family's plant nursery in Matsumoto, Japan. At nineteen, following World War II, she went to Kyoto to study the traditional Japanese style of painting known as Nihonga. During this time, she began experimenting with abstraction, but it was not until she arrived in the United States in 1957 that her career took off-beginning with her first US solo exhibition at Seattle's Zoe Dusanne Gallery. Relocating to New York from Seattle a year later in 1958, Kusama moved in avant-garde circles with such figures as Andy Warhol and Allan Kaprow while honing her signature dot and net motifs, developing soft sculpture, creating installation-based works, and staging Happenings (performance-based events). She first used mirrors as a multireflective device in Infinity Mirror Room — Phalli's Field, 1965, transforming the intense repetition that marked some of her earlier works into an immersive experience. ln 1973, she returned to Japan, where she has continued to develop her mirrored installations.
Yayoi Kusama: Infinity Mirrors is the first exhibition to focus on this pioneering body of work, presenting six room-size environments. The show traces the progression of Kusama's iconic installations alongside a selection of her other key artworks, highlighting some of her central themes, such as the celebration of life and its aftermath. Ranging from peep-show-Iike chambers to multimedia installations, each of these kaleidoscopic environments offers the chance to experience an illusion of infinite space.
MY ETERNAL SOUL
Begun in 2009, My Eternal Soul currently comprises over five hundred works. Kusama has said that through this series, she hopes to trace the "beauty of colors and space in the silence of death's footsteps and the 'nothingness' it promises." These paintings embody both the radiance of life and the sublimity of death. The exuberant patterns vibrate with contrasting colors and, much like her early work, are characterized by a tendency toward obsessive, endlessly proliferating motifs and the suggestion of biomorphic forms.
INFINITY NETS
Kusama created her Infinity Net paintings during her first years in New York, a time when she faced tremendous financial and emotional hardship. The repetitious motion of inscribing tiny arcs on a solid black background served as a meditation through which she made works "without composition-without beginning, end, or center." Though stemming from a very personal experience, Kusama's "interminable nets," later called Infinity Nets, were remarkably prescient about the formal questions of art in the 1960s. Embodying the painterly qualities and the emphasis on process that are characteristic of abstract expressionism, these works also echo the seriality and monochromatic palettes of minimalism.
INFINITY MIRROR ROOM — PHALLI'S FIELD, 1965/2016
Kusama spent much of her time between 1962 and 1964 sewing thousands of stuffed fabric tubers and grafting them to furniture and found objects to create her Accumulation sculptures. She exhibited the works together in an attempt to create hallucinatory scenes of phallic surfaces, but she found the labor involved in making them physically and mentally taxing. In response to the labor-intense nature of this work, she started to utilize mirrors to achieve similar repetition. Infinity Mirror Room-PhaIli's Field was perhaps the most important breakthrough for Kusama during this immensely fruitful period. The reflective surfaces allowed her vision to transcend the physical limitations of her own productivity. Furthermore, the mirrors created a participatory experience by casting the visitor as the subject of the work, a feature that the artist demonstrated through a provocative series of self-portraits in which she used her body to activate the space.
WORKS ON PAPER
Kusama's works on paper first garnered attention in the United States in 1957, when she was the subject of a solo exhibition at Zoe Dusanne Gallery in Seattle. Produced on a small scale in rapid succession while the artist was still living in her hometown of Matsumoto, Japan, these drawings consist of abstract forms that evoke orbs, eggs, amoebae, and columns. In Flower QQ2, a cluster of dots may suggest a red light emerging from a distant haze. Hidden Flames, The lsland in the Sea No. 1, and Long Island employ decalcomania, a surrealist technique of blotting the surface of a sheet of paper with wet gouache paint and pressing another sheet against it to spread the pigment around. These early drawings are intimate, organic microcosms that the artist later expanded on in her Infinity Mirror Rooms.
ACCUMULATIONS
Kusama began making the Accumulations or "soft sculptures" in the early 19605. Through creating countless soft phallic tubers and attaching them to furniture, the artist hoped to conquer her fear of sex and the phallus through a kind of self-therapy. Artworks made from sofas, chairs, stepladders, dressers, and a large table were presented together in Kusama: Driving Image Show, a 1964 installation that functioned as a "total environment." These sculptures serve as important precursors to her first Infinity Mirror Room, Infinity Mirror Room-Phalli's Field (1965). Unlike in her sculptures and wall reliefs from this time, the tubers in Phalli's Field emerge from the floor and are multiplied ad infinitum by surrounding mirrors to create an encompassing environment.
After focusing on performances for a few years, Kusama returned to making sculptures in the mid-19705, continuing to use phallic forms. She often coated these works with silver paint, evoking the reflective surfaces of her Infinity Mirror Rooms. The results are less organic than the early Accumulations, their sheen frozen and ethereal. Walking on the Sea of Death, a tuber-coated rowboat on the opposite end of this gallery, is an example of one of these sculptures.
TRANSFORMED INTO DOTS, 2007/2017
In 1996, Kusama began creating a series of installations incorporating polka-dotted balloons. Hanging from the ceiling and occupying the floor, these inflatable objects disrupt the viewer's path. Visitors can enter an Infinity Mirror Room inside one of the balloons or peer inside another. The work engages visitors on contrasting scales: the tiny microspace seen through a peephole and the macro, life-size space that envelops the viewer within the installation. A video monitor hanging from the ceiling of the gallery features Kusama singing one of her poems, "Song of a Manhattan Suicide Addict."
INFINITY MIRRORED ROOM — LOVE FOREVER
Infinity Mirrored Room — Love Forever is an iteration of the second mirrored environment Kusama created. Sculptural, architectural, and performative, the installation blurs the lines between artistic disciplines and is activated by audience participation. Hexagonal in shape and mirrored on all sides, Love Forever features two peepholes that invite visitors to peer in and see both themselves and another participant repeated into infinity. At the time Kusama created this Infinity Mirror Room, she was experimenting with new technology and viewed the work as a "machine for animation." During the 1966 opening of the exhibition Kusama's Peep Show, which featured this work, Kusama distributed buttons with the message "Love Forever" printed on them. For the artist, the concept of "Love Forever" stood for civil rights, sexual liberation, the antiwar movement, and the activist groups of the 1960s.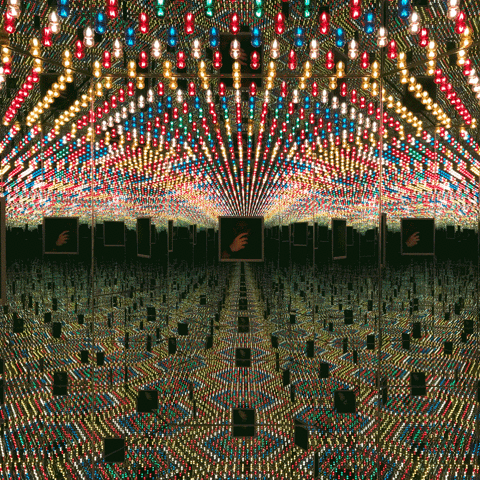 Documentaries & Resources
Yayoi Kusama Homepage The background of the website uses a small image repeating infinity covering the whole space. It confirms Yayoi Kusama's soul of chasing "infinity".
Update on 02/09/2018:
The Art Gallery of Ontario is scheduled to exhibit Yayoi Kusama: Infinity Mirrors, which Showcases Yayoi Kusama.
The Yayoi Kusama page by Artsy provides visitors with Kusama's bio, over 400 of Kusama works, exclusive articles, and up-to-date Kusama exhibition listings.
TOC